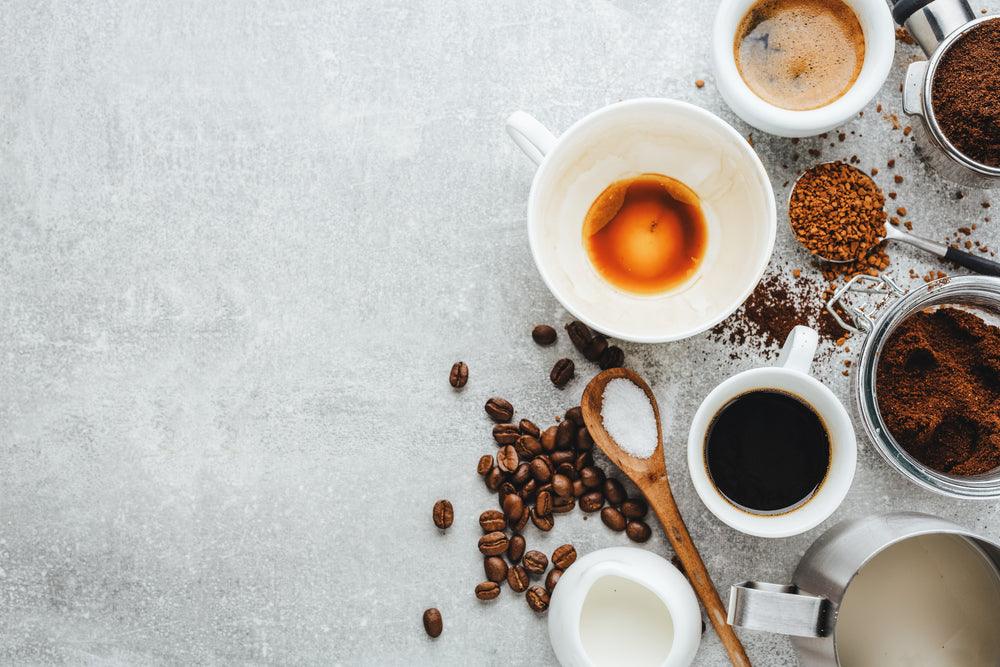 Are you one of those people who like to try new & simple coffee recipes every day? If you are one of those. Let's quickly dive into 5 mouthwatering simple & quick recipes for every coffee lover. 
Dalgona Coffee At Home 
Coffee making is an art, especially if you are making everybody's all-time favorite Dalgona coffee. Dalgona Coffee Is the coffee you knew you always needed. Indulge yourself in this smooth & perfectly textured coffee with Chariot Newyork.
A mixing bowl & spoon

1 tablespoon of Chariot Newyork Instant Coffee 

Hot boiling water - 2 tablespoons 

White sugar - 3 tablespoons sugar 

Milk - Add Milk of your choice ( Whole milk, almond milk, or oats milk )
Firstly, Take a big mixing bowl, and add 1 tablespoon of instant coffee and 3 tablespoons of sugar.

Pour the required amount of boiling water into the mixture.

With the help of a whisker or spoon, start whiskering the mixture in a clockwise direction. 

After a few minutes ( 5-10 min), start beating the mixture anti-clockwise. 

When The mixture starts to turn a little brown and smoothy texture, take a fancy glass of your choice, and add milk and ice (not compulsory) to it. 

Top your milk with whisked whipped cream and toppings of your choice. 
 Pro Tip - Whisk your mixture in both directions (clockwise &anti-clockwise) for the best texture and enhanced flavor.  
    Iced Latte 
 Weekend & iced latte - It doesn't get better than this. There is no better start to  the weekend morning than a chilled iced latte.
Double shot of espresso 

¼

cup of milk 

Sweetener of your choice- sugar, white sugar, or maple syrup
Take a glass filled with ice, Pour 2 shots of espresso over to ice.

Before adding sweetener, stir the mixture well with a straw. 

Add sweetener & Milk of your choice. 

Stir up all your ingredients properly for the best results.
  Instant Iced Coffee  
Instant iced coffee- Just the right recipe for coffee lovers. Don't worry and try this amazing recipe because sweetness doesn't count when it comes to iced coffee.
2 tablespoons of Chariot Newyork Instant Coffee  

2 tablespoons cup of sugar - white or brown sugar 

1 cup ice 

⅓ of milk or cream 

2 tablespoons of warm water 

Chilled water 
Add 2 tablespoons of instant coffee, ½ cup of sugar, and 2 tablespoons of warm water in a tall glass

Stir the mixture until the sugar gets dissolved, then add ½ cup of chilled water in it.

Add milk of your choice, and finish the recipe with chilled ice cubes on top.
       4. Tasty Greek Frappe
Do yourself a favor & make his greek frappe at home with us. Greek frappe - A easy to make and has a delightful flavor.                                             
 Required Ingredients 
2 tablespoons of chariot network instant coffee 

2 tablespoons of sugar 

4 tablespoons of water 

3-5 ice cubes 

½

cup of milk
Firstly, get a tall glass, a spoon, and a whisker. 

Add 2 tablespoons of instant coffee, 2 tablespoons of sugar, and 4 tablespoons of chilled water. 

Whisk The mixture until a thick and smooth foam is seen.

Pour the foam into a tall glass and add 3-4 ice cubes and cold milk of your choice

Your tasty greek frappe is ready to enjoy. Cheers!
  Caramel Frappuccino 
Coffee & caramel - An eternal love affair. Taste a sip of heaven in everybody's & our personal favorite "Caramel Frappuccino"
⅓ cup caramel sauce

3 tablespoons white sugar

 2 cups ice

1 cup cold brewed coffee 

1 Low-fat milk ( preferable ) 

1 tablespoon of vanilla extract
Add 2 cups ice, brewed coffee, caramel sauce, sugar, and vanilla extract into a blender. Blend until a smooth texture is achieved. 

Pour your drink into the glass. Top Your drink with whipped cream, lots of caramel sauce, and nuts of your choice.

Now your delicious caramel frappuccino is ready to drink.
Be it morning laziness or evening delights, Coffee can lift your mood instantly. With Chariot Newyork instant coffee, every day is just like a vacation at your favorite beach with a beautiful sunset, and good people by your side.